The Future of Retirement Happiness at Work
In Brief
Today, people across the world live longer, work differently and, in keeping with those changes, have new expectations of their employers and workplace benefits. In our 2019 Global Retirement Reality Report (GR3), we've built upon the Happiness Formula, informed by our 2018 GR3 employee and retiree research, by applying an employer lens. This year, we're exploring how employers can support the three dimensions of retirement happiness:
1. Preparedness: Gain a more comprehensive view of employees' financial ecosystems
2. Trust: Stay current on the policy issues that affect retirement savers and, in as much as possible, continue to design plans that include automatic options and ESG investments
3. Ownership: Bridge the advice gap and invest in ongoing participant communications that follow the savings journey and support the retirement transition
Survey Methodology
We spent the first half of 2019 conducting interviews with 195 sponsors across five countries, chosen to represent a range of different retirement systems: Australia, Ireland, the Netherlands, the United Kingdom and the United States. The survey, led in conjunction with international data analytics firm YouGov, covered employers, referred to here as plan sponsors, with responsibility for 1.5 million participants in total.
A Note About Plan Sponsors
Within this report, plan sponsors are defined as the employers who engage with retirement savings plan design, management and communication to savers. In the different countries surveyed, employers have different levels of plan sponsor responsibility, with some employers being wholly focused on plan management and others taking a less tactical role. Regardless of their plan responsibilities, we found that those surveyed across all countries were invested in improved retirement outcomes for their employees.

Preparedness
Preparedness points to plan sponsors' and participants' assessments of whether their retirement savings will be enough to provide a comfortable retirement. For plan sponsors to be able to design the best plans, they need more insight into the progress participants have made on their savings journey.
However, changing demographics, increased job transitions over a single career, and the growth of the gig economy have highlighted the twin issues of portability and limited financial insight:
Portability or the ability to transfer accrued savings from past to current employers is seldom an easy task. The combination of administrivia and inertia can lead employees to have multiple savings sums with different employers - limiting their complete view of their finances.
Limited financial insight not only affects savers, but their employers, who aren't confident that savers will have sufficient income replacement rates in retirement. On average, respondents across countries surveyed expected that their employees would have 29% of final income available to them in retirement. However, these same respondents were much more optimistic about employees' ability to retire at retirement age (55%) and maintain their current lifestyle (53% of those surveyed believed at least 21% to 50% of employees will maintain their lifestyle, 28% believe the number is as high as 70%, or more). One explanation for this discrepancy is that given sponsors limited insight, they simply don't know. In this case, not knowing restricts sponsors' ability to provide the resources that could help those savers in jeopardy of a savings shortfall.
Trust
In order to build trust, it is essential that plan sponsors are motivated to meet the goals of their participants. We found that doing the right thing for savers is the sponsor's top priority.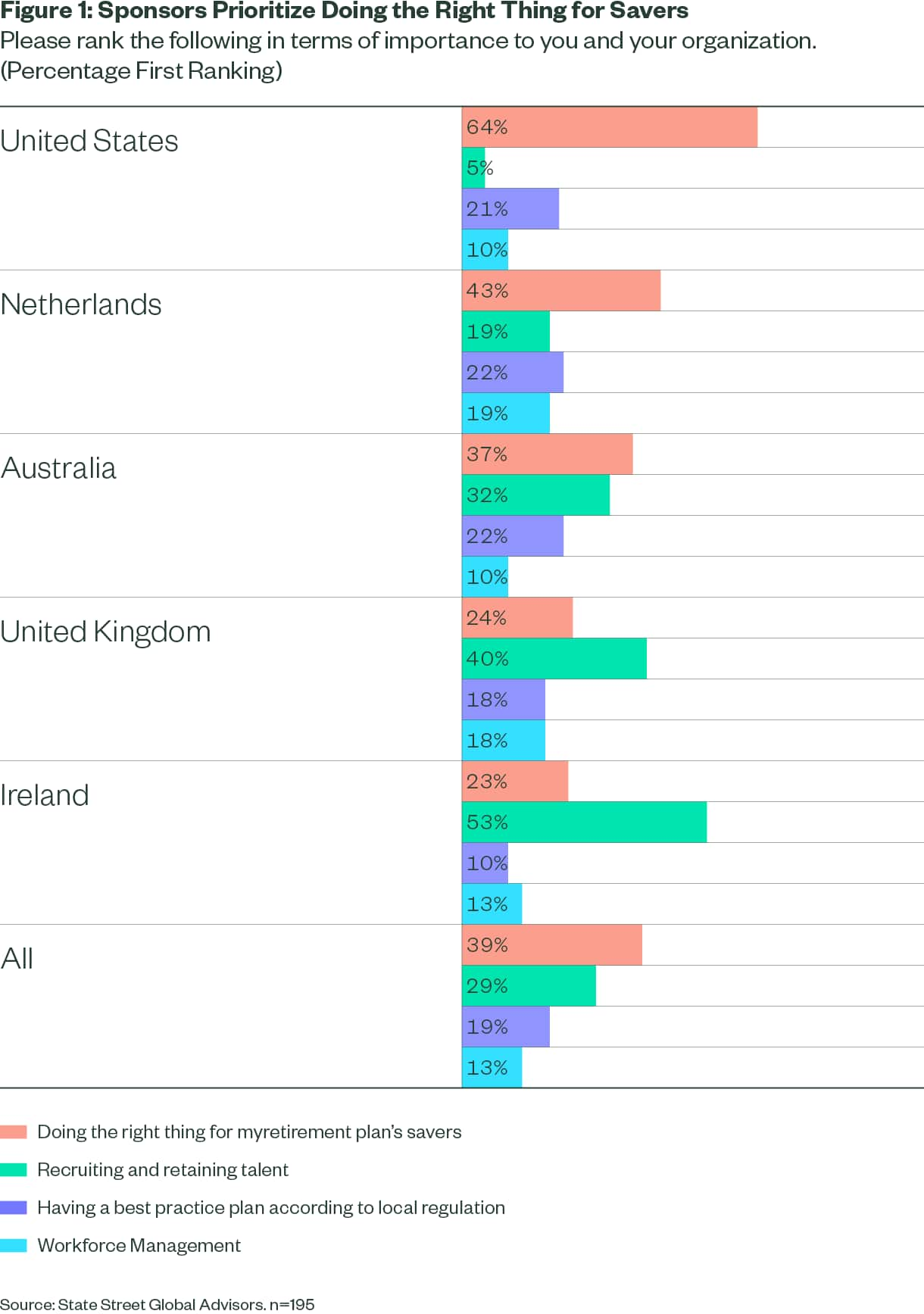 In the retirement realm, the desire to "do good" takes on many forms: policy advocacy, investment menu selection, plan design, ongoing education and wellness programs, and access to advice. While not all sponsors can deliver on each dimension, testing into some areas of trust-building can drive better overall engagement.
One way sponsors are executing on their commitment to their employees is by anticipating the plan dimensions participants most value and need – insight that will inform our Ownership section.
Another approach to increasing trust is to offer environmental, social and corporate governance (ESG) options within the fund menu.
In a recent State Street study conducted by the UK research consultancy Ignition House, 56% of respondents stated that they would have more trust in their DC plan if they knew it was being used for socially responsible investment.1 However, despite the perceived importance of ESG-focused investments, we know in practice that many plans have not yet taken steps to incorporate ESG. We asked respondents what the reason for not incorporating ESG was.
In the past, choosing between values such as ESG or performance was often presented as a zero-sum game, suggesting that driving impact came at the cost of better returns. We believe this is a false choice and that a company's environmental actions, social behaviors and governance practices can have a positive impact on performance. Our survey indicated that plan sponsors agree, as less than a third reported "lower returns" as the key reason for not incorporating ESG to date. We expect the perception of sacrificed returns will continue to abate over time with more consistent ESG data.
Ownership
Within DC retirement structures, the majority agrees that savers are responsible for their own success: averaged across all countries, 56% of sponsors agreed in 2019, 68% of savers agreed in 2018. Employers globally acknowledge savers' autonomy and consider what role to take in providing access to and paying for professional financial advice.
While sponsors don't reflect a clear pattern of alignment on how the cost of advice is covered, it is important that the conversation is gaining momentum. In fact, the responses to questions about sourcing and payment show that nearly all of the options got support, suggesting the truism that if everyone is responsible, no one is. With advances in artificial intelligence driven robo-advice, the cost of these services will likely decrease and may ultimately become a standardized plan service. Until that time, sponsors are defining responsibility on a firm-by-firm basis.
Seeing the Big Picture
This year's GR3 effort highlighted some of the ways that sponsors are anticipating and repositioning to meet the evolving work experience and to help deliver employees greater retirement happiness by furthering preparedness, building trust and empowering ownership.
At State Street, we are able to support sponsors in each of these dimensions by:
Executing plan ecosystem analyses to gain a view into savings sufficiency
Offering access to leading regional policy experts
Sharing ESG strategies
Developing bespoke participant communications.
It is our mission to deliver retirement solutions for people, plans and policymakers globally. Given employers' commitment to doing the right thing for employees, we know we are speaking to an allied audience with a shared sentiment: Empower people to retire with dignity — not only today but also into the fast-changing future.
1 Ignition House research for Defined Contribution Investment Forum. April 2018. Q: If you knew that your defined contribution pension money was being used for Responsible Investment, to what extent do you agree or disagree with the following statement: "I would have more trust in my pension."