Navigate Late Cycle Volatility with Defensive Equities
Key Takeaways
Go defensive with global diversification and overweight to the United States.
Political uncertainty warrants heightened caution in Europe.
Emerging markets offer attractive discounts to developed markets in technology and consumer stocks.
Although global GDP growth is expected to slow in 2019, economic fundamentals should continue to support earnings growth in equity markets, most notably in the US. Even so, equity investors are likely to face increased volatility amid rising interest rates and trade uncertainty, not to mention the multiple changes occurring to global equity indices in 2019. Investors may wish to focus on defensive equities to navigate the late innings of this historically long cycle.
Strong Fundamentals Support US Equities

While US equities saw a severe pullback in October 2018, we still expect them to outperform relative to the rest of the world in 2019, though with limited headroom for multiple expansion. To progress, we will need to see further advances in earnings across all sectors.
We expect earnings to advance for several reasons, albeit with some volatility in expectations. First, investors have demonstrated that they are prepared to pay for the greater expected return on equity of US companies and for economic stability, as demonstrated by the US's relatively contained inflation and robust GDP growth. Second, the US is currently leading the world in terms of expectations for earnings-per-share (EPS) growth in 2019 (see Figure 1). Third, US consumption is buoyant, thanks to rising disposable incomes and high employment.


US equity return drivers are well supported by several factors, including increases in intended capital expenditures due to US tax reforms and low unemployment levels as well as share buybacks, which reached a record high in 2018. While buybacks may not break further records in 2019, we expect US companies to continue to repatriate funds from overseas and return a portion of these to shareholders. Textual analysis of company statements shows that capex and shareholder payouts are likely to be key corporate themes in 2019.
Increased capital expenditure, in turn, should be supportive for cyclical stocks such as industrials, which typically gain momentum toward the end of the cycle. Moreover, we have seen interest in the US equity market broaden from a handful of large technology companies, offering investors more opportunities in other sectors. To that end, we are positive on healthcare as well as technology. We remain neutral on banks, as the US yield curve is likely to flatten further, perhaps even invert, in 2019, preferring insurers and other fee-paying businesses.

Meanwhile, political and economic uncertainty is causing risk aversion among global investors, who are demanding higher risk premia from non-US markets. This reflects a growing disconnect between these regions' share prices and their fundamentals. While we see no reason for this to alter in the near term, any US dollar weakness, downside surprises on US growth, signs of Federal Reserve (Fed) dovishness or a greater impact from China's looser fiscal and monetary policy stance could provide a catalyst for emerging markets and other risk assets to bounce.
US equity return drivers are well supported by several factors, including increases in intended capital expenditures due to US tax reforms, low unemployment and share buybacks.
Emerging Markets (EM) Equity Valuations Offer Attractive Buying Opportunities
EM relative equity valuations traded at all-time lows in 2018, with a discount to developed markets of roughly 70%1, against a backdrop of trade conflict, idiosyncratic issues in countries such as Turkey and Argentina, fear of contagion and concerns about Chinese banks. While the Fed continues to tighten monetary policy and the US dollar remains strong, emerging markets are likely to struggle in aggregate. Earnings-per-share estimates continue to trend downwards for 2019 and will need to stabilize before investors are likely to re-enter emerging markets.
Nonetheless, specific EM opportunities could emerge later in 2019, if the risks already priced in to markets do not materialize. In this scenario, investors looking to increase their long-term EM allocation could consider buying the dips. If trade risks reduce, for example, we could see sentiment move sharply in favor of EM equities, debt and currencies. We have already seen the Mexican peso return to levels last seen prior to US President Trump's election following agreement on a treaty to replace NAFTA.
China has responded to the trade war with the US by loosening monetary policy to stimulate demand, while Chinese banks are trading close to the low levels last seen during the global financial crisis. Chinese equity valuations in general are very low, despite a 9% year-on-year growth in Chinese retail sales.2 Fixed capital investment (e.g., factories and infrastructure) has gone from roughly 48% of GDP to 44% in just five years.3 So while there may be defaults in China, many of the underperforming companies (e.g., those in metals and mining) have been cleared from the system and we believe the government has the capacity to manage higher levels of corporate debt.

EM sector composition has also changed, with consumption sectors now accounting for the largest proportion of the MSCI EM index. Despite this, EM countries are still treated by international markets as a play on resources rather than on consumption (see Figure 2). Sector-adjusted EM valuations still trail their developed market peers, especially in technology and consumer-related sectors. In addition, we are due to see significant changes to MSCI EM indices, with the phased inclusion of China A-shares and Saudi Arabian equities in 2019, which should bring significant flows to these markets but also prompt global investors to review their allocations.
Finally, institutional positioning in EM is now so light (even compared to historically underweight institutional allocations) that we would expect to see some reversion in due course, especially if EM growth picks up versus developed markets.
Sector-adjusted emerging market valuations still trail their developed market peers, especially in technology and consumer-related sectors.
European Uncertainty Weighs on Valuations
European equities continue to be hamstrung by regional politics. Leaders in countries such as Germany, France and the UK are preoccupied with their own political survival, Brexit and the immediate financial risks presented by countries such as Italy. This has weakened the impetus to implement much-needed structural reforms aimed at protecting the eurozone from the next crisis.
If Brexit negotiations result in a deal and populists fail to dominate May's European Parliamentary elections, European markets could make progress in the second half of 2019. European growth remains reasonable and the European Central Bank is set to wind down quantitative easing and may even raise rates towards the end of 2019. However, at the time of writing, we believe real political risks could weigh on European stocks and justify a defensive stance that seeks to mitigate market volatility.
Volatility Returns to Normal
Following unusually complacent market conditions in 2017, when equity markets made unobstructed progress with record-low volatility, 2018 brought more normal conditions with a higher probability of losses or tail-risk events. We expect this backdrop to continue in 2019: the longer the global equity market rally continues, the greater the probability that a market correction will materialize, in addition to nervousness around rising rates, diminished liquidity and US dollar strength. We see evidence of investors positioning their equity portfolios for a correction via the SKEW index, which measures the risk of extreme market moves. While volatility, as represented by the VIX volatility index, has trended downwards, investor positioning for a tail-risk event has been elevated for an extended period (see Figure 3).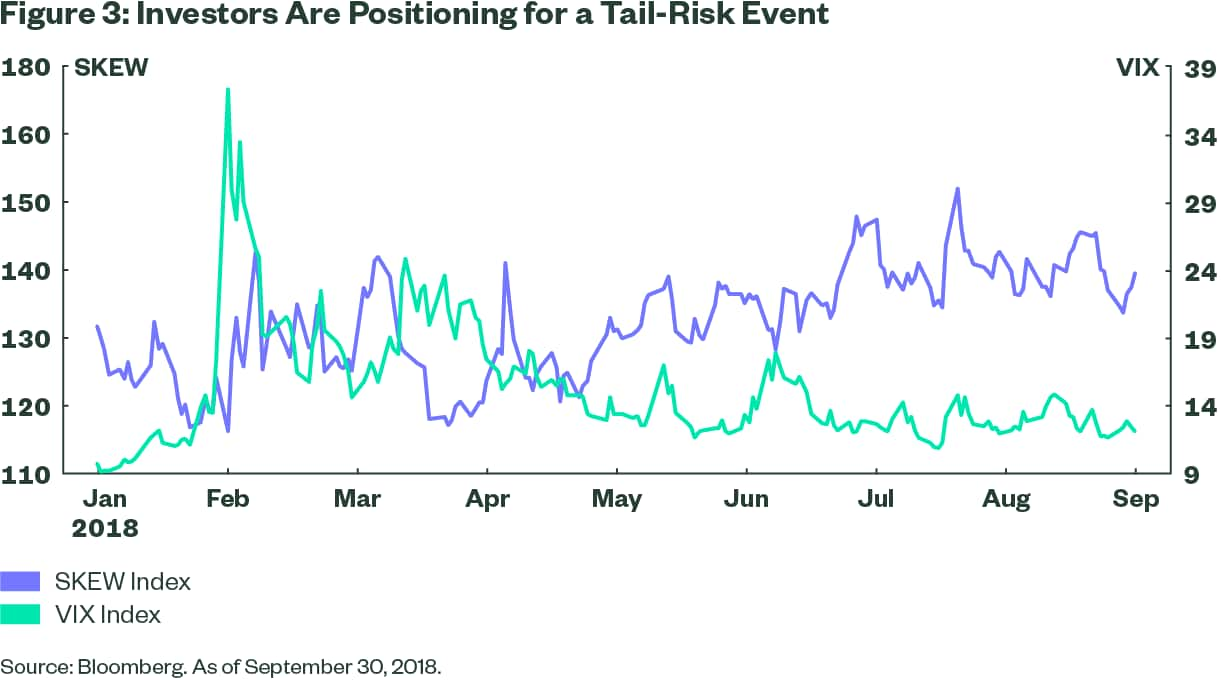 Investors worry about tail risk because a single-year correction of 20% can erase nearly 30% of the total portfolio value generated over nine years of strong equity markets. We therefore expect a shift in emphasis from return on capital to return of capital over the next 12 to 18 months. State Street Global Advisors analysis indicates that developed market (DM) equities will generate only 6% in returns over the next ten years compared to historical averages of 10%, while EM will return over 9%.
Investment Implications
Against the backdrop of the longest bull market in history, we believe there is a case for global investors to be overweight risk assets in 2019 while remaining alert to increased tail risks. In such an environment, we recommend adding to global strategies, focusing on equities with defensive characteristics. Investors should seek companies likely to benefit from US economic tailwinds. In addition, emerging markets equities should offer attractive entry points in 2019, given the discounts they offer to developed markets equities, particularly in the technology and consumer-driven sectors. In Europe, we remain cautious due to political headwinds and suggest a more defensive posture than elsewhere. Finally, because value stocks have underperformed for such an unusually extended period, we believe we should be close to an inflection point. As the greatest upside happens early in the turn of the cycle, we suggest investors don't give up on value now.