Following the recent market sell-off, the known risks for 2019 such as the US-China trade war and tighter monetary policy may appear to be largely factored in to security prices. However, a variety of outlier scenarios or "Gray Swans" remain that could challenge our base investment case for the coming year.
Our Base Case for 2019
While our base case for 2019 expects global growth to slow, we continue to see reasons for the US to outperform other regions in the near term: US earnings should be buoyed by vestiges of the late-cycle fiscal boost, unemployment is low and inflation remains contained. As such, we remain constructive on US equities and credit, especially as valuations now look attractive following the recent sell-off. Price-to-earnings (P/E) ratios for US equities currently sit in their bottom 33rd percentile over the past 30 years.1
Known risks to this view include further tightening from the Federal Reserve and heightened geopolitical risk from trade wars and populism. These are already having an impact on markets and their development needs careful monitoring as they increase the likelihood of economic retrenchment.
Six Gray Swans
But while we have been encouraging our clients to weatherproof portfolios for many months now as volatility picks up, at the time of writing, we see no obvious catalyst for either a structural growth break-out or a sharp recession. Nonetheless, we can envisage several alternative scenarios that could disrupt another year of Goldilocks conditions (in which markets are neither too hot nor too cold):
1. China lets its currency fall as the trade dispute escalates and reserves wane
2. Oil spikes to $90 a barrel
3. A major institutional default triggers a flight from over-levered sectors
4. Europe surprises to the upside
5. The US cycle extends much further than consensus expects
6. Japanese inflation breaks out and Bank of Japan (BOJ) is forced to hike
China lets currency fall as trade dispute escalates and reserves wane
China has used a variety of policy tools to smooth the transition to a more balanced economy. Notably, policymakers have paid special attention to the renminbi/US dollar relationship. But as pressures mount, the temptation to use the currency lever could grow. So as our first gray swan, China entertains the extreme option of letting its currency depreciate sharply against the dollar, perhaps precipitated by an escalation in the trade war. This is unlikely because both the US and China have an interest in maintaining a weaker dollar. China has been unofficially managing its currency to regulate its trade and mitigate the risk of capital outflows, so dollar appreciation could be a problem. The US, meanwhile, does not want the dollar to strengthen significantly against the yuan as it reduces the effects of US tariffs on Chinese goods.
While the People's Bank of China has intervened in recent years to smooth currency trends, the country is keen not to be viewed as a currency manipulator, especially now that yuan is part of the SDR (Special Drawing Rights) basket of major currency denominations. Moreover, to bolster the yuan, it has to dip into its foreign exchange reserves, which have been diminishing over the past six months, falling back towards $3 trillion – 25% below their 2014 level (as Figure 1 shows). However, if the trade dispute with the US ratchets up and Chinese growth slows faster than expected, China could decide it no longer wishes to play nice from a currency perspective.

It could decide to stop trying to stabilize the yuan and allow it to plunge against the dollar. This would further offset the impact of tariffs on Chinese exports to the US, but could easily spook already nervous financial markets and trigger capital flight. The corresponding increase in dollar strength could hurt emerging markets as an asset class, perhaps even more than in 2018.
While we believe this Swan is highly unlikely given China's previous resistance to large-scale yuan depreciation and its wish to maintain credibility in global markets, if beset by higher tariffs, rising debt, declining growth and domestic pressures, the government could threaten to let its currency sink or even signal that it is less willing to defend it. Any ensuing currency shock from the world's second largest economy could be sufficient to make global growth, which is already slowing, roll over completely.
Investment implications: Likely to see a broad-based sell-off in risk assets across EMs and Europe, especially if global GDP collapses. On a relative basis, therefore, be overweight to US stocks, favoring companies with less international exposure and long safe haven currencies such as the yen and the US dollar; be short yuan and EM equities.

Oil rebounds to $90 a barrel
The oil market has seen renewed volatility in 2018, with a 38% drop in price in the final quarter of the year2 – the largest quarterly slide in four years. Consensus suggests that the oil price is likely to trade within a range ($50-$67) in 2019. At the time of writing, West Texas Intermediate is at $48 while Brent Crude is at $58.3 Many believe it could go lower still as the US, now the world's largest producer, ramps up production, disruptions to supply from Iran and Venezuela prove less severe than anticipated and concerns mount over slowing global growth.
However, we can envisage a scenario in which the oil price confounds expectations and breaks upwards, perhaps as high as $90 a barrel. While countries concerned about climate change want to move away from fossil fuels and China, whose tectonic rise fueled a commodity super-cycle, is starting to adjust to more normal growth levels, we are only a few years away from talk of "peak oil" and predictions of prices reaching $200 a barrel. While that looks out of reach for now, displacing oil as the mainstay of the global economy with electrified transport and heating will take time.
On the supply side, we see potential for tighter pricing conditions. OPEC has already cut production, US shale producers constantly need to drill new wells to maintain oil flow, and traditional exploration and production elsewhere has lagged since the financial crisis. Moreover, US producers are highly dependent on favorable credit conditions which could weaken in a rising rate environment. In any case, few countries now have spare capacity. OPEC may agree to reduce production further, despite pressure from the US to keep prices low, as Saudi Arabia needs oil to be above $85 a barrel to balance its budget. We could also see further disruption in the Middle East (with fewer waivers on purchases of Iranian oil) and in Latin America (with deteriorating conditions in Venezuela).
On the demand side, there are multi-year demographic trends that point to increasing energy needs. In the short term, any positive global growth surprise could lead to upward pressure on oil prices, perhaps driven by China's latest stimulus, higher fiscal spending in Europe, some resolution of the US-China trade dispute and more favorable credit conditions if the Fed suspends its policy tightening. With the US now a net exporter, higher prices are likely to incentivize further capital expenditure and the additional revenue should offset any negative effects on domestic consumption.
Investment implications: Be long commodities and commodity exporters such as Australia, Russia and countries in the Middle East, or else gain exposure through energy and materials sectors; be short energy-intensive sectors and net oil importers. Protect against inflation with short to intermediate term TIPs.
A major institutional default triggers a flight from over-levered sectors
After a decade of easy money, leverage has increased across public and private companies, exposing the global economy to a greater risk of major credit events in an era of rising interest rates. If the Fed continues to tighten monetary policy, then financing conditions could deteriorate, potentially spurring a major, and possibly systemic, default at one of the larger corporates or banks. This in turn could dash confidence in late-cycle credit markets and trigger a flight from those sectors with the greatest leverage.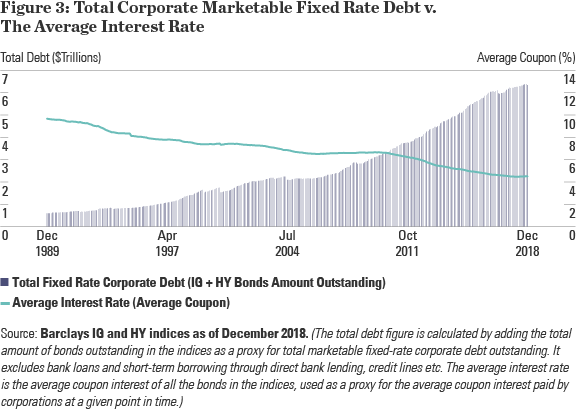 Typically, credit shocks are unpredictable, which often amplifies their impact. While it is hard to pinpoint where the next crisis may originate, there are clearly issues in areas such as US corporates with BBB debt, European banks, China and the private credit market. For example, according to the IMF's Financial Stability Report from October 2018, the (floating rate) leveraged loan market has seen a big rise in issuance since 2010, prompting warnings from central banks that it could be incubating the sort of unsustainable debt build-up we saw with subprime mortgages.
More broadly, debt servicing costs are on the rise and floating rate investment grade debt is higher among financial than non-financial companies, meaning changes in interest rates could filter through to this sector more quickly though, in theory, they should be better prepared.4
Ten years on from the financial crisis, regulators have taken steps to try and ensure that banks can be wound up without compromising the integrity of the entire financial system. But while capital ratios have improved and stress tests are regularly carried out, it remains to be seen how a disorderly credit unwind might manifest itself and the implications of that for investment grade, high yield, private credit and volatility strategies.
While cracks have begun to emerge at this late stage of the credit cycle, they are not canyons yet, and valuations are no longer rich after spreads widened in December. However, credit events tend to start small and then build, so it is worth keeping an eye on larger, more highly-levered companies especially where their business models may be under pressure.
Investment implications: Be long Treasuries and companies with strong balance sheets. Consider buying protection through credit default swaps, especially for the banking sector. Given the likely rise in equity volatility, consider being long VIX futures.

Europe surprises to the upside
Not all Gray Swans lead to dire outcomes. In December 2018, the European Central Bank finally drew to a close Mario Draghi's "whatever it takes" bond buying program designed to tackle the fallout of the sovereign debt crisis. Yet the Eurozone economy remains below pre-crisis levels and the consensus outlook for 2019 is dismal.
While analysts expect earnings to rise by around 8%,5 sentiment towards the region as a whole is weak, driven by political uncertainty within Europe and the upheaval caused by Brexit. Europe is also exposed to the US-China trade dispute as it relies more heavily on exports to drive growth due to unfavorable demographics and the structural imbalances created by monetary union.
However, it is just possible that European growth could surprise to the upside in 2019, given the low year-on-year base effect, and positive political outcomes could bolster sentiment. The row over the Italian budget already appears close to a resolution. If Brexit negotiations result in a breakthrough and populist parties lose ground in the European elections in May, markets could rally in relief, supported by the effects of stimulus in China and perhaps closer to home.

Household and corporate balance sheets, even in countries such as Italy, are relatively healthy, allowing some headroom for governments to boost their economies. European governments may therefore opt for fiscal stimulus to try and reignite growth as the ECB turns off the liquidity taps and Draghi's term as President draws to a close. Meanwhile, unemployment looks set to continue falling across the Eurozone while wage growth is on the rise, which could stoke consumer demand. Any inflation that arises as a result would need to be sustained to precipitate an increase in interest rates.
While the US economy currently appears to be in a healthier state at present, if Europe does perform significantly better than the US in 2019, this could drive the dollar lower as investors turn to European assets.
Investment implications: Be overweight European stocks, particularly the financial sector, and long the euro versus the Swiss franc and the US dollar. Be underweight US large cap equities (while US stocks could continue to do well, relative valuations would favor other regions in this scenario) and German Bunds, particularly at the short end of the curve.

US cycle extends much further than consensus expects
The Fed's final interest rate hike of 2018 prompted a seemingly disproportionate market reaction for a move that had been so widely telegraphed. But the strength of the sell-off demonstrated how worried investors were by the prospect of slower growth and the effects of the US-China trade conflict. The Fed has since signaled a more dovish stance and may reconsider its schedule of two rate rises for 2019.
If the Fed does pause and trade tensions with China ease as President Trump focuses on domestic opponents ahead of the 2020 election, then a combination of factors such as the fiscal boost, full employment and a drive for productivity gains through higher capital expenditure could extend the already lengthy US cycle much further than the consensus view anticipates.
With the US economy still expanding if not over-heating, there is no obvious catalyst for a recession, e.g., an oil supply shock, runaway wage inflation or a ready-to-burst asset bubble, on the horizon.
Indeed, it is possible for countries to go for long periods without experiencing a significant contraction. For example, Australia has not had an official recession in 27 years thanks in part to the exogenous effects of the commodity super-cycle.
Moreover, while the recovery since the financial crisis has been prolonged, setting the tech sector aside, it has also been fitful and shallow. US GDP growth is still below that of the average recovery since 1950. We could therefore be in yet another mini-cycle prior to the economy breaking upwards again (see Figure 8).
In the eight US recessions since 1960, none has started with the real fed funds rate at less than 2%. The real fed funds rate is currently zero. And while the past is no guide to the future, we note that since 1950, the S&P 500 has been up on average 15% in the 12 months following midterm elections, while, historically, the third year of a President's term yields the strongest equity returns if the incumbent is running for reelection.6
Finally, it appears there could be room for bipartisan agreement on infrastructure, as transport issues in some areas have become acute and are impeding economic growth. If Democrats and Republicans can reach a settlement on a level of infrastructure funding and how to spend it, we could see a further boost to the US economy.
While this extended cycle scenario would be positive for corporate profitability and equities, it could be negative for bonds if yields move up to reflect expectations of a higher neutral rate.
Investment implications: If regions continue to diverge, buy US large caps and corporate bonds, and be short Europe and emerging markets.
Japanese inflation breaks out and Bank of Japan is forced to hike
Our final Swan is an inflation outbreak in Japan. The country has endured deflation for so long that it can seem economically embedded. Certainly, the Bank of Japan's two-decade long fight against falling prices and the numerous recoveries cut short by premature tightening have created an accommodative bias at the Bank of Japan and among investors. This means that the implications of rising wages and increasing domestic fixed investment are largely being ignored by the market.
But what if they are finally having an impact? Could we see a sudden upsurge in inflation for which almost no one is prepared? In 2018, total cash earnings in Japan climbed at the fastest rate since 1996. The less volatile scheduled earnings (excluding overtime and bonuses) rose at the fastest pace since 2000. Moreover, the size of the labor force has gone from being in decline in a relatively closed society to increasing thanks to a growing influx of foreign workers. Despite additional entrants into the labor force, unemployment continues to fall.7
Until recently, wage inflation was tied to yen weakness, suggesting that the economy was dependent on the weak yen boosting the trade balance and thereby profits. Now, dependence on a weak yen has diminished and wage inflation is occurring despite the currency being range-bound.
Furthermore, the retrenchment of corporate balance sheets appears to have run its course and a long period of negative net investment is giving way to demand for replacements and upgrades. The Tankan survey8 shows that, in the past two years, actual business conditions have consistently beaten forecasts, suggesting the predictions are too conservative and adding to pressure to increase capital expenditure.
Central banks around the world appear to have grown anxious about extending extraordinary monetary measures ad infinitum and are trying to wean their economies off easy money. Even Haruhiko Kuroda, head of the BOJ, has signaled that Japan is no longer in a phase where "large-scale policy" is considered the best way to fight deflation.9 However, he is likely to be acutely conscious of not repeating past mistakes and therefore will be in no hurry to raise rates. This means that real interest rates could remain negative for a while despite increasing inflationary trends. But if inflationary forces take hold, Kuroda may be forced to tighten policy quickly, possibly catching the market off guard. This could make an already attractive yen even more appealing.

Investment implications: Be overweight Japanese yen and Japanese equities, particularly the financial sector. Initiate flatteners in Japanese government bonds (JGBs) but avoid the very long end of the curve, targeting bonds with 2year-10year maturities. Avoid using Japanese yen in currency carry trades.
Conclusion
Thinking about these improbable but not impossible Gray Swan scenarios helps inform the risk-aware approaches we take across our portfolios. You can read last year's Swans here, elements of which did materialize despite seeming unlikely at the start of 2018. With heightened volatility continuing through 2019, it will be especially important to consider from where risks, as well as opportunities, are likely to emerge.
1Valuations for US and Non-US equities based on the S&P 500 Index and the MSCI ACWI-Ex US Index as of 12/31/2018, Bloomberg Finance LP
2Source: Bloomberg, 12/31/2018
301/09/2019
4Source: SSGA estimates on Bloomberg Barclays Indices
5Source: JP Morgan Cazenove, Citi research 01/07/2019
6Source: WSJ, October 2018: https://www.wsj.com/articles/midterms-are-a-boon-for-stocksno-matter-who-wins-1538645400
7Source for all data in this paragraph: Tightening Labor Market in Japan could Trigger Tectonic Shift in Financial Markets, Srinivas Thiruvandanthai, August 10, 2018, Jerome Levy Forecasting Center
8Source: Bank of Japan (2016-2018)
9Source: FT, November 2018 https://www.ft.com/content/1d2c8e46-e0bc-11e8-a6e5-792428919cee - BOJ hints at monetary tightening
The views expressed in this material are the views of Lori Heinel through the period ended 01/15/2019 and are subject to change based on market and other conditions. This document contains certain statements that may be deemed forward-looking statements. Please note that any such statements are not guarantees of any future performance and actual results or developments may differ materially from those projected.
Investing involves risk including the risk of loss of principal.
All information has been obtained from sources believed to be reliable, but its accuracy is not guaranteed.
There is no representation or warranty as to the current accuracy, reliability or completeness of, nor liability for, decisions based on such information and it should not be relied on as such.
The whole or any part of this work may not be reproduced, copied or transmitted or any of its contents disclosed to third parties without SSGA's express written consent.
The information provided does not constitute investment advice and it should not be relied on as such. It does not take into account any investor's particular investment objectives, strategies, tax status or investment horizon. You should consult your tax and financial advisor.
The trademarks and service marks referenced herein are the property of their respective owners. Third party data providers make no warranties or representations of any kind relating to the accuracy, completeness or timeliness of the data and have no liability for damages of any kind relating to the use of such data.
United States: State Street Global Advisors, 1 Iron Street, Boston, MA 02210-1641
State Street Global Advisors Global Entities
© 2018 State Street Corporation - All Rights Reserved
Tracking #: 2376905.1.1.GBL.RTL
Expiration Date: 01/31/2020