In the light of rising protectionism and the apparent dismantling of the postwar global order, geopolitics continues to matter a great deal to markets, but it can be hard for investors to know how to react to it. In a recent study, State Street Global Advisors assessed the impact of geopolitics on markets and found identifiable patterns of market responses to geopolitical events. The study suggests that geopolitics is a driving factor for financial markets, not merely a part of the background news cycle.
We looked at economies exposed to chronic geopolitical risk, with sufficient market liquidity, well-functioning financial systems and non-fixed exchange rate regimes; we excluded oil exporters facing a separate set of idiosyncratic risks, which left us with India, Israel, South Korea and Turkey. For these markets, we compiled a subjective list of 71 distinct geopolitical events stretching back to the late 1980s, and categorized them as either 'positive' or 'negative', measuring reactions of currency and equity markets along different time intervals. The invasion of Kuwait by Iraq in 1990, the 1999 Lahore Declaration and the start of Turkey's European Union accession process in 2005 are examples of the events studied for this research.
In line with conventional wisdom, we find that that the spot currency market is the place where markets 'vent' their initial reaction to negative events before undertaking a more comprehensive assessment of each asset class. A negative event produces an average depreciation of 0.64% in two trading days, which is roughly equivalent to currencies undergoing their expected monthly fall. The subsequent underperformance of currency at horizons up to three months is mostly explained by this initial shock. In contrast, the outperformance after positive events is much more muted in the beginning but more resilient at one-month and three-month horizons.
The reaction of equity markets is far more symmetrical. While instant reactions are inconsistent across the sample, equity markets significantly over (under) perform both a week and a month after a positive (negative) event; after negative events, markets take about three months to recover even in nominal terms. However, looking at rolling returns, we note that the actual over/under performance persists between one and two months, while longer-term over/under performance constitutes this accumulated effect carried forward into longer periods (see Figure 1). Furthermore, while the effect on volatility is limited, negative (and only negative) geopolitical occurrences elevate pairwise correlation, as markets interpret them as negative events.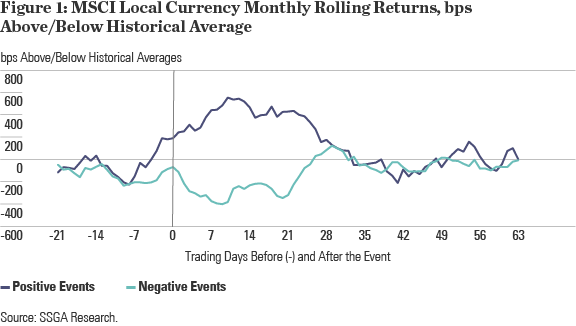 From the point of view of a USD-based investor, the combined effects of currency and equity lead to a tentative 'sweet spot' a month after positive events, as the delayed positive reaction of currency and strong equity performance produce very strong outperformance in both absolute and risk-adjusted terms (Figure 2). For negative events, the effects of the initial currency drop appear to be very persistent, and investors worried about such risks should carefully consider their currency positioning.
All four markets considered are emerging markets, though comparatively advanced ones. Deeper and more liquid developed markets could experience those events with different magnitudes, but one can expect the same general direction.
For more information on how investors can use our findings to navigate geopolitical events, read the full study here.
1Note: averages across all positive and negative events where data is available, weighted equally across 4 markets; results annualized; source: Bloomberg, SSGA Research
Disclosures
The views expressed in this material are the views of Elliot Hentov and Alexander Petrov through the period ended 10/30/2018 and are subject to change based on market and other conditions. This document contains certain statements that may be deemed forward-looking statements. Please note that any such statements are not guarantees of any future performance and actual results or developments may differ materially from those projected.
Investing involves risk including the risk of loss of principal.
All information has been obtained from sources believed to be reliable, but its accuracy is not guaranteed.
There is no representation or warranty as to the current accuracy, reliability or completeness of, nor liability for, decisions based on such information and it should not be relied on as such.
The whole or any part of this work may not be reproduced, copied or transmitted or any of its contents disclosed to third parties without SSGA's express written consent.
The information provided does not constitute investment advice and it should not be relied on as such. It does not take into account any investor's particular investment objectives, strategies, tax status or investment horizon. You should consult your tax and financial advisor.
The trademarks and service marks referenced herein are the property of their respective owners. Third party data providers make no warranties or representations of any kind relating to the accuracy, completeness or timeliness of the data and have no liability for damages of any kind relating to the use of such data.
United States: State Street Global Advisors, 1 Iron Street, Boston, MA 02210-1641
Web: www.SSGA.com
State Street Global Advisors Global Entities
© 2018 State Street Corporation - All Rights Reserved
Tracking #: 2319809.1.1.GBL.RTL
Expiration Date: 11/30/2019