With contributions from Rajeeb Bharali, Senior Associate, Investment Solutions Group
As we said in our mid-year Global Market Outlook, we think the global credit cycle is in its later stages but has further to run. We put the nearly 10-year cycle in the context of the much longer time it has historically taken for economies to recover from credit-fueled financial crises and the ultra-loose monetary policy central bankers used to encourage borrowing and spending to aid the recovery. Certainly, the US tax reforms have also helped extend the cycle. As these structural factors wane or even reverse, "normal" cyclical ones such as corporate confidence and higher borrowing are beginning to supersede them. But which factor will ultimately crack the cycle? We examine whether economic fundamentals, credit availability or investor sentiment is likely to be the major catalyst for bringing this cycle to an end and how investors can respond.
Economic Fundamentals
So far, fundamentals remain positive for credit, particularly in the US. Economic growth and tax reforms have bolstered top-line revenues (with little or no additional expense) amid another strong US earnings season. As Figure 1 shows, key economic indicators within the Conference Board Leading and Coincident Economic Indices point to the US continuing to make progress, offering further headroom for credit markets over the short to medium term. As yet, we have not seen the kind of sustained widening of credit spreads that often precedes a significant equity market pullback followed by a recession.
While most central banks around the world have already started or are expected to start tightening policy, the gradual normalization of rates from excessively low levels is likely to be a slow burn for companies rather than a major shock, at least while inflation remains contained.
Although unemployment is low, wage growth is muted – perhaps due to a lower natural rate of unemployment and relatively stable oil prices. As yet, there are no indications that the Fed, or other central banks, will have to rush to hike rates. Instead, the Fed appears to be fulfilling its mandate to foster financial stability and prevent markets from overheating, rather than focusing solely on inflation. Elsewhere, inflation in Europe and Japan remains moderate, so rates are likely to rise slowly if at all. While globally interest rate yield curves are flattening, it may be some time before they invert, often an indicator of recession.
Nonetheless, the pertinent question for investors, particularly in the US, remains: when will higher rates start to bite into company earnings and filter through into share prices? The majority of companies are in a position to meet their debt payments if rates rise slowly and remain relatively low. However, interest coverage ratios have been trending downwards since 2013, especially in the energy market, which suffered when oil prices fell sharply in 2015-16, but has since begun to recover. Coverage ratios have now reached a cyclical low (Figure 2).
Moreover, corporate net cash flow positions are weaker than a few years ago, while corporate debt has grown as mergers-and-acquisitions (M&A) and share buyback activity has increased (Figure 4). More lower-quality investment grade (IG) bonds (BBBs) have been issued to fund this corporate expansion, making up a bigger proportion of outstanding debt. In aggregate, debt levels are now at post-crisis highs, leaving companies more exposed to interest rate rises (though perhaps more focused on productivity gains). Much will depend on whether a company holds floating-rate or fixed-rate debt. Those with longer-term maturities will have a lag on higher debt costs until they have to refinance in several years' time. Those on floating rates will feel the impact of higher interest rates much more quickly.
However, the recent trend has been to push the maturity wall further off by refinancing while rates are still at moderate levels and individual company factors should continue to determine debt valuations while economic growth remains robust. Many "zombie" operations kept alive by cheap credit have now disappeared, especially in the US, though the risk has not gone away entirely. This pushes out any near- term risks to credit.
While increasingly cautious as spreads tighten, our fixed income team is still finding opportunities in BBB/BB rated bonds. From an asset allocation standpoint, our Investment Solutions Group is neutral on both high yield and investment grade debt, having held a small underweight to high yield during the uptick in volatility earlier in the year.
Credit Availability
A lack of credit availability was the hallmark of the global financial crisis. Following a wave of new regulation requiring higher capital ratios, banks reduced their lending to small and medium-sized businesses. Private credit stepped in to fill the gap. This and, more recently, the US tax windfall, have helped companies strengthen their balance sheets while potentially storing up less visible risks. So far, corporate tax cuts have outweighed the costs of new caps on the amount of interest and operating losses that can be offset against profits, but this may change as rates rise.
While credit remains available and banks are lending more, dealer inventories of new bond issues are still low because of regulatory constraints. High yield issuance, in particular, is down on last year in the US and Europe, but this is mainly due to greater issuance of leveraged loans (Figure 4) as investors seek out floating rate instruments in a rising rate environment. However, as covenants on bonds and loans in general have become weaker in the last year amid stronger issuer negotiating power, it is important for investors to be selective.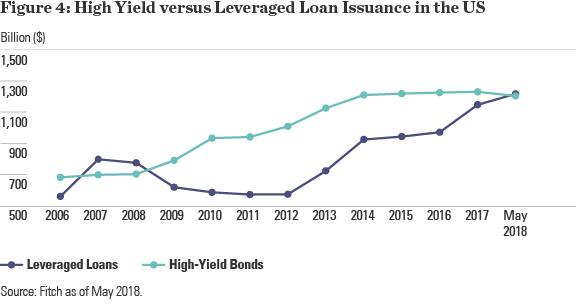 Market Sentiment
While economic fundamentals remain robust, markets are still confident about the likelihood of further expansion. The inflation fears seen earlier in the year have faded and investors continue their hunt for yield. However, spreads are now so tight that investors may wonder if they are being fully compensated for the risk they are taking. Much of their return is coming from coupon clipping rather than price rises, though this has been the case for some time. Meanwhile, consistent with tighter spreads, default rates show no signs of rising, and indeed have fallen among companies issuing high yield debt.
The greater threat to investor confidence therefore may now come from forces that could derail economic growth such as further retaliatory trade tariffs. We believe the recent meeting between President Trump and Jean-Claude Juncker, President of the European Commission, has been positive for US-EU trade relations, but tensions with China could escalate. If higher trade costs start to affect US growth while US Treasury rates continue to rise, we could quickly see investors switch away from credit amid already febrile market conditions. This, we think, could carry weight as a factor to bring the current cycle to an end. As investors rushed for the exit, credit would become more expensive and harder to come by, leading to further downward pressure on growth.
Conclusion
After a decade of easy monetary policy, regulatory change, demographic pressures and the rise of private credit, this has been one of the longest credit cycles in history. While cyclical factors such as monetary policy, debt levels and corporate activity all indicate that we are approaching the end, we still see no obvious catalyst for spreads to blow out and expect that global growth will persist into 2019. When the end does come, it will likely be driven by a sharp reversal of sentiment, so investors should be prepared. Taken in aggregate, economic and credit indicators suggest this is still 18 to 24 months away. In the meantime, it may be prudent to take some risk off the table but not de-risk entirely as there is some headroom left. Instead, investors should be tactical with their allocations, opt for quality and move higher up the credit spectrum in both high yield and investment grade.
Disclosures
The views expressed in this material are the views of Rajeeb Bharali and Chris Ingle through the period ended August 7, 2018 and are subject to change based on market and other conditions. This document contains certain statements that may be deemed forward-looking statements. Please note that any such statements are not guarantees of any future performance and actual results or developments may differ materially from those projected.
Investing involves risk including the risk of loss of principal.
All information has been obtained from sources believed to be reliable, but its accuracy is not guaranteed.
There is no representation or warranty as to the current accuracy, reliability or completeness of, nor liability for, decisions based on such information and it should not be relied on as such.
The whole or any part of this work may not be reproduced, copied or transmitted or any of its contents disclosed to third parties without SSGA's express written consent.
The information provided does not constitute investment advice and it should not be relied on as such. It does not take into account any investor's particular investment objectives, strategies, tax status or investment horizon. You should consult your tax and financial advisor.
The trademarks and service marks referenced herein are the property of their respective owners. Third party data providers make no warranties or representations of any kind relating to the accuracy, completeness or timeliness of the data and have no liability for damages of any kind relating to the use of such data.
United States: State Street Global Advisors, 1 Iron Street, Boston, MA 02210-1641
State Street Global Advisors Global Entities
© 2018 State Street Corporation - All Rights Reserved
Tracking #: 2208857.1.1.GBL.RTL
Expiration Date: 8/31/2019