US Small Caps: High Expectations May Be Priced In Following Multiple Tailwinds
Published August 03, 2018
US small cap stocks have had a great run in 2018 thanks to growth, tax, trade and currency tailwinds. While valuations do not yet appear overly rich, we think high expectations as to future earnings performance may now be priced in and investors may wish to review their tactical exposure in the coming months.
Solid economic data this year has boosted US small cap stocks, which are highly correlated to nominal GDP growth. While this growth may be sustained for some time, any hint of a levelling off on such high expectations could disproportionately affect small caps.
Meanwhile, a stronger USD has hurt big exporters and helped drive the relative outperformance of small vs large caps (Figure 1). This dollar strength now more fully reflects higher US yields and even higher growth expectations. As a result, we believe the opportunity for further positive surprises has diminished, particularly as the global ex-US outlook remains positive.
The US administration's protectionist policies against China and others have also benefited smaller companies due to the higher proportion of domestic revenues they generate versus large caps. Despite the strong rhetoric from both sides and initial rounds of tariffs, it is likely that a full-scale trade war will be avoided. Both sides are heavily constrained, though for different reasons, so have little incentive to escalate tensions further in the near term. The US is more constrained politically in the sense that there is less state control over domestic dissent than in China. Given the approaching mid-terms, our economists think the threat of a backlash from the most affected states could incentivize the US government to tread more carefully.
So far, the positive economic impact of tax reform in the US has outweighed the effects of the trade spat and disproportionately boosted small caps. 2019 may prove to be an even better year than 2018 in terms of their tax and regulatory windfall, but much of this stimulus has already been priced in. Moreover, tax reforms have largely benefited wealthier Americans, who have a lower propensity to spend, so not all of the positive effects are likely to feed through to smaller companies.
As the momentum and surprise potential from these multiple tailwinds begin to wane in the coming months, we believe US smaller companies could feel a greater impact than larger ones due to their often weak fundamentals.
While European small caps have taken advantage of low rates to improve their balance sheets, US small cap leverage is at historic highs with net debt/EBITDA at circa 3.8x (Figure 2). Solvency ratios compound our concern and are at lows of around 2.8x, warning us that the less stable earnings and cash flows generated by small caps mean they could find it difficult to service these leveraged balance sheets, particularly when considering that a higher proportion of this debt is borrowed at a variable rate. This makes it more susceptible to Fed rate rises later in the year.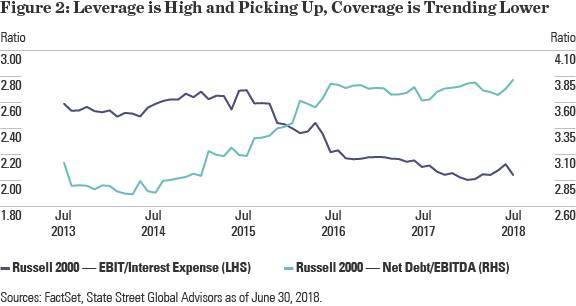 At present, small cap valuations do not look stretched and are only just creeping over their 10-year averages thanks to high earnings expectations. But high expectations increase the probability of downside surprises and there are indications that current conditions may not last. The percentage of unprofitable small caps continues to rise, in tandem with expectations of profitability, as measured by the steepness of the earnings curve (12m estimated/12m realized EPS).
While many of the drivers of small cap outperformance versus their larger peers remain intact, some cracks are beginning to show in recent performance. Coupled with higher expectations for the remainder of 2018, now may be a good time for investors to begin to review their tactical exposure to US small caps.
Definitions
EBIT: Earnings before interest and taxes.
EBITDA: Earnings before interest, taxes, depreciation and amortization.
Nominal GDP: The market value of all final goods and services in a given year measured at current prices.
Russell 1000: An index that tracks the largest 1,000 stocks in the Russell 3000 Index.
Russell 2000: An index that tracks the smallest 2,000 stocks in the Russell 3000 Index.
US Dollar Index: An index that tracks the value of the US dollar against a basket of foreign currencies.
Disclosures
The views expressed in this material are the views of James Morgan through the period ended August 1, 2018 and are subject to change based on market and other conditions. This document contains certain statements that may be deemed forward-looking statements. Please note that any such statements are not guarantees of any future performance and actual results or developments may differ materially from those projected.
Investing involves risk including the risk of loss of principal.
All information has been obtained from sources believed to be reliable, but its accuracy is not guaranteed.
There is no representation or warranty as to the current accuracy, reliability or completeness of, nor liability for, decisions based on such information and it should not be relied on as such.
The whole or any part of this work may not be reproduced, copied or transmitted or any of its contents disclosed to third parties without SSGA's express written consent.
The information provided does not constitute investment advice and it should not be relied on as such. It does not take into account any investor's particular investment objectives, strategies, tax status or investment horizon. You should consult your tax and financial advisor.
The trademarks and service marks referenced herein are the property of their respective owners. Third party data providers make no warranties or representations of any kind relating to the accuracy, completeness or timeliness of the data and have no liability for damages of any kind relating to the use of such data.
United States: State Street Global Advisors, 1 Iron Street, Boston, MA 02210-1641
State Street Global Advisors Global Entities
© 2018 State Street Corporation - All Rights Reserved
Tracking #: 2198659.1.1.GBL.RTL
Expiration Date: 8/31/2019