With contributions from Akbar Ali, Portfolio Strategist, Active Quantitative Equity and
Thomas Bilbe, Portfolio Manager, Active Quantitative Equity


European markets surged last year on the back of stronger-than-expected growth. Coming into 2018, market sentiment was extremely bullish in expectation of a repeat performance. Since then, such optimism has evaporated in the face of disappointing economic data, political upheaval in Italy and Germany, global trade tensions and Brexit uncertainty. Nonetheless, while European GDP growth may be slower this year than last, we do not expect it to turn negative and the relative underperformance of Europe versus the US is creating a range of attractive value opportunities for our active equity teams.
Switch Flips on European Growth
Having lagged the US since the financial crisis, and double-dipped into recession in 2012/2013, European growth of 2.3% in 2017 caught many investors by surprise. The upswing was driven by some improvement in consumer spending and investment, but primarily by net exports. Given this better-than-expected performance, flows into European investments pushed the euro higher versus the dollar, surprising many investors who had forecast dollar strength for 2017.
This year, it was as if someone had flipped a switch and the data went in the opposite direction. Following an especially cold winter and a flu epidemic in Germany, manufacturing expectations were hit the hardest, with PMI data weakening for six consecutive months, although still in positive territory. A stronger euro, increasing trade frictions and a fraught political scene, especially an unexpected coalition challenge to German Chancellor Angela Merkel, all rocked confidence. Weaker growth in emerging markets, which buy 30% of all European goods, also hurt exports.
Despite these factors, our economists believe Europe will grow this year, but in a moderately disappointing way compared to last year. Our current forecasts for the region are 2.2% annual GDP growth for 2018 versus 3.8% for the US. But if the economic data worsens, we will revise that downwards, probably below 2%. For the moment, the Citi Economic Surprise Index shows Europe below zero but on a sharp upward trend. Currently, we do not think growth will be weak enough to alter the European Central Bank's plan to roll back its asset purchase program later this year; and we still expect it to start raising rates towards the end of 2019.
Brexit Plan Offers Starting Point
Political turmoil has also been a theme in the UK, following the resignations of two hard-line Brexiteer ministers. There is at last, however, a Brexit plan on the table. It may look impossible to implement given the EU's four freedoms, but offers enough to begin the negotiations, in our view. Offering free trade in goods where the EU runs a surplus with the UK, while accepting tariffs on services where it has a deficit, should benefit the EU to such an extent that it may be willing to stretch the application of the principle of the free movement of people. Meanwhile, we think sluggish UK economic data and the latest cabinet reshuffle has diminished the probability of a "no deal" Brexit for as long as Mrs May remains Prime Minister. UK GDP is projected to increase by just 1.5% in 2018 as businesses put investments on hold amid Brexit uncertainty.
Europe Offers Opportunities for Stock-Pickers
While European economic growth prospects may appear less attractive from an asset allocation standpoint – our multi-asset team has a small underweight to Europe and is overweight the US – our active quantitative and fundamental equity teams are still finding opportunities among certain sectors and companies.
European valuations on a price/book (P/B) basis are looking attractive, in our view (Figure 1). Not only do they look cheap relative to their own historical averages, but they also look cheap relative to the US. In fact, this may be the biggest gap between P/B measures in Europe and the US in 45 years. Over the last five years, Europe has lagged the S&P 500 by 50%, and by 6% since the start of 2018. The reason for this is that the return on equity (ROE) for European companies is 700 basis points lower on average than for US companies. So this gap needs to close for European valuations to catch up with those of the US.
Our quantitative measures show bottom-up sentiment towards European stocks is rebounding strongly, though it still lags the US (Figure 2). Our sentiment score captures analyst biases such as upward revisions of earnings as well as other sentiment indicators. It reflects end Q2 consensus growth forecasts for European earnings of 8.3% this year, compared to 9.5% at the start of 2018. US companies are expected to grow their earnings by 19.7% versus 10% at the start of the year.[1] Longer term, there remains plenty of room for further recovery in Europe compared to the US. Earnings in France and Switzerland remain 5% to 15% below where they were in 2007, while countries such as Italy and Spain are 30% to 50% below.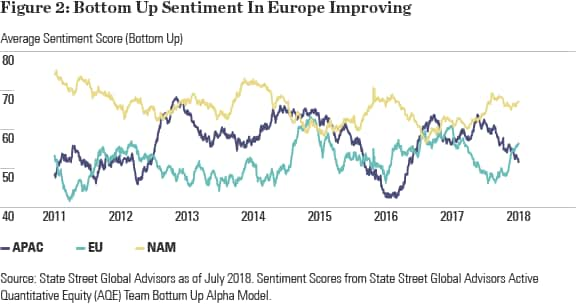 Despite lower European share prices in recent months, earnings per share numbers have continued to rise. This suggests a disconnect between the positive outlook for corporate earnings and temporary stock market volatility driven by confounded expectations and the political uncertainty outlined above. As second-quarter earnings figures come in, this disconnect may start to fade and markets revert to assessing fundamentals. However, given political risks and euro strength, our active quant team has an overall underweight to the UK and Eurozone in our European funds, and an overweight to countries such as Switzerland and Denmark.
Small Caps Can Still Offer Upside
At present, we are still finding selective opportunities within European small caps, even though they have outperformed their large cap peers for an extended period. Since 2009, the Sharpe Ratio of the MSCI Europe Small Cap Index has been more than double that of the MSCI Europe (0.83 versus 0.38) meaning that small caps have returned more with the same amount of volatility. This outperformance of small caps has been driven by stronger earnings. We see that earnings per share growth for small caps are forecast to outpace large caps on average by 2% over the next 3-5 years (Figure 3), which should support further outperformance.
Small caps are less exposed to international trade tensions and global geopolitical risks. The median revenue exposure to the US is just 2% for small caps compared to 13% for large caps[2]. This reduced exposure to the US market should act as a shelter in the face of escalating trade tensions between the EU and US and also aid outperformance. Additionally since the premium between European small and large caps has a long run correlation of 1% to the trade-weighted euro, we don't see the recent weakening of the euro impacting directly on our positive view on selective European small caps.
Risks to small caps come chiefly from competition and financing, so they are more sensitive to higher interest rates. Given that we are in an era of tightening monetary policy, this remains something to watch out for alongside any significant slowdown in the economic data.
Sector Opportunities and Risks in Europe
In these more volatile markets, in which high risk European stocks look expensive relative to themselves and US peers, investors may wish to consider positioning their portfolios more defensively. Finding the right sort of defensive exposure in Europe is crucial. Traditionally defensive sectors such as telecoms and consumer staples no longer offer the same sort of protection when volatility spikes. Telecoms face structural challenges such as long-term price competition and are capital-intensive. Consumer staples, meanwhile, are struggling to grow revenues and are very focused on cost-cutting. This is prompting an attempt to "buy growth" via merger-and-acquisition (M&A) activity at expensive multiples, which we believe could adversely affect these companies' future return profiles.
Meanwhile, our fundamental equity team is finding opportunities in the energy and financials sectors. Energy in Europe is twice as important in size terms for markets as it is in the US and we are starting to see the major oil companies' earnings power build on the back of higher commodity prices. European financials have been through a long and painful de-leveraging process since the financial crisis and earnings are still half what they were a decade ago. However, better capitalized firms such as BNP Paribas, Société Générale and Credit Suisse are now in a much stronger position to compete globally, in our view.
The technology sector is also worth a mention, even though European tech is one-tenth the importance of US tech to their respective markets. Tech earnings in the US are up 160% since 2007, but aside from giants such as software firm SAP, earnings in European tech companies have been underwhelming. We find it hard to believe the momentum in US tech will continue indefinitely, but could see it picking up in Europe, helping to close the aggregate ROE gap between the two regions over time.
In conclusion, risks to European growth persist, but the market overreaction to data weakness and political uncertainty in the first half of the year has created some opportunities for skilled stock-pickers. European sectors such as energy, industrials, financials and technology appear to offer some of the best tailwinds for investors, especially in relation to richer valuations seen in the US.
1Source: FactSet
2Source: Factset Revere as of December 2017
Definitions
Basis Point: One hundredth of one percent.
Citi Economic Surprise Index: An index that tracks how economic data are performing relative to the consensus forecasts of economists. A positive reading indicates that economic releases have been beating consensus forecasts and a negative reading indicates that economic releases have been missing consensus forecasts.
MSCI Europe Index: An index that represents the performance of large and mid-cap equities across 15 developed countries in Europe.
MSCI Europe Small Cap Index: An index that represents the performance of small cap equities across 15 developed countries in Europe.
MSCI World Index: A broad global equity benchmark that represents large and mid-cap equity performance across 23 developed markets countries. It covers approximately 85% of the free float-adjusted market capitalization in each country and does not offer exposure to emerging markets.
Price-to-Book (P/B) Ratio: A valuation metric that compares a company's current share price against its book value, or the value of all its assets minus intangible assets and liabilities.
Return on Equity (ROE): The amount of net income returned as a percentage of shareholders equity. Return on equity measures a corporation's profitability by revealing how much profit a company generates with the money shareholders have invested.
S&P ® 500 Index: A market value weighted index of 500 US stocks that reflects the performance of a large cap universe made up of companies selected by economists.
Sharpe Ratio: A measure of risk-adjusted return.
Disclosures
The views expressed in this material are the views of Christopher Probyn, Akbar Ali, Thomas Bilbe and Peter O'Donoghue through the period ended July 13, 2018 and are subject to change based on market and other conditions. This document contains certain statements that may be deemed forward-looking statements. Please note that any such statements are not guarantees of any future performance and actual results or developments may differ materially from those projected.
Investing involves risk including the risk of loss of principal.
All information has been obtained from sources believed to be reliable, but its accuracy is not guaranteed.
There is no representation or warranty as to the current accuracy, reliability or completeness of, nor liability for, decisions based on such information and it should not be relied on as such.
The whole or any part of this work may not be reproduced, copied or transmitted or any of its contents disclosed to third parties without SSGA's express written consent.
The information provided does not constitute investment advice and it should not be relied on as such. It does not take into account any investor's particular investment objectives, strategies, tax status or investment horizon. You should consult your tax and financial advisor.
The trademarks and service marks referenced herein are the property of their respective owners. Third party data providers make no warranties or representations of any kind relating to the accuracy, completeness or timeliness of the data and have no liability for damages of any kind relating to the use of such data.
United States: State Street Global Advisors, 1 Iron Street, Boston, MA 02210-1641
State Street Global Advisors Global Entities
© 2018 State Street Corporation - All Rights Reserved
Tracking #: 2178212.1.2.GBL.RTL
Expiration Date: 7/31/2019