The recent jump in 10-year US Treasury rates above 3% is another sign that, as we said coming into 2018, we are closer to end of this market cycle than to the beginning. Yet calling a definitive end is challenging for as long as we continue to see robust growth and contained inflation. In the meantime, we continue to find value in the long end of the curve and attractive buying opportunities in certain equity sectors.
Growth Still Robust, While Inflation Tracks Sideways
While global growth remains robust, apart from some recent softening signs in Europe, inflation has quickened but not become entrenched. In the US, where growth is gaining momentum and unemployment is at historic lows, core inflation is at 2.1%, close to the Fed's target, while the personal consumption expenditure (PCE) inflation index (without the more volatile food and energy elements) stood at 1.9% in March. US inflation expectations have shifted upwards, but are still lower than they were four or five years ago. The employment cost index (ECI) shows pay has increased steadily in private industry, but overall average hourly earnings increases are trending sideways.
Yield Curve Likely to Remain Positive Until 2019
Nonetheless, even a modest upward inflation trend strengthens the Fed's case for further interest rate rises and dampens investor enthusiasm for bonds. In addition, US Treasury supply is increasing to fund a larger US fiscal deficit in the wake of tax cuts and higher government spending. As a result, there is a substantial short on short-dated government bonds, and our fixed income team is biased to be long long-term interest rates in the likelihood that the yield curve will continue to flatten. We do not, however, expect the curve to invert, at least not until the beginning of 2019; if it does, the Fed may broaden new bond issuance beyond its current focus on short-term paper. So far, whenever 10-year rates have risen above the 3% threshold, investors looking for lower risk returns have stepped in and pushed prices up again, stabilizing the market.
Hedging Rate Rises
While higher rates may present a tactical buying opportunity, investors may wish to consider hedging a longer-term squeeze on government bond prices. Our Investment Solutions Group retains a tactical overweight to equities, given the potential pickup in alpha compared to bonds. While there have been periods of positive correlation between equities and bonds during this year's sell-offs, if equities go up and yields stabilize, we do not foresee a problem. However, if diversification benefits become less visible, it might be worth considering other diversification methods such as alternative asset classes, dynamic defensive strategies or being long volatility. Despite the recent sell-off in emerging markets, we believe emerging market debt continues to offer attractive opportunities, though we think we are far enough along in the credit cycle for investors to prepare for a soft landing by taking risk off the table and moving higher up the quality spectrum.
Commodities too appear attractive at this point in the cycle, because, as real assets, they provide some protection against higher inflation and interest rates, albeit with greater volatility. Having done very little for the last decade, in the last few weeks, a range of commodities including oil prices have rebounded to their strongest levels in several years.
Significant Sector Rotation as Rates Rise
Figure 1 shows the equity sectors most exposed to rate risk such as real estate and utilities with negative correlations, while financials and energy correlate more positively. The correlation dispersion between utilities and financials has ratcheted up considerably in the last few months. This can be problematic for highly defensive portfolios which often contain bond proxies such as utilities. Valuations for these traditionally defensive sectors, especially healthcare and staples, are expensive and the fundamental growth story has been somewhat stagnant. Staples are seeing tailwinds such as lower input prices revert, while healthcare is subject to regulatory and business model challenges. Our teams also favor the less crowded tech innovators as well as deep value in industrials, materials and energy sectors. For our quantitative equity team, bolstering portfolio defenses is about diversifying factor exposures. Their alpha model mitigates rate risk by increasing exposure to value and momentum stocks that act as natural hedges to low volatility stocks' rate sensitivity.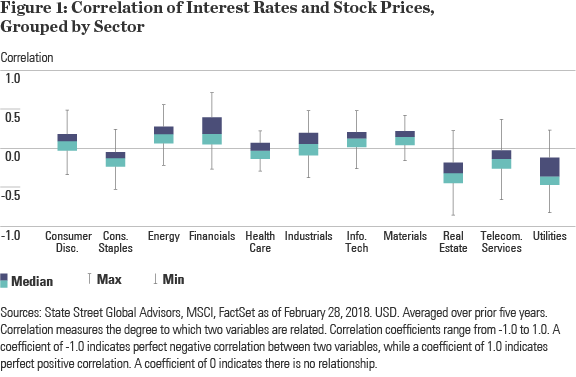 Conclusion
In our view, the recent rise in Treasury rates was overdue, given the positive outlook for global growth and higher inflation expectations. While inflation may accelerate modestly from here, a major inflation event is unlikely given the current economic backdrop. We expect rates to move up by perhaps 50 basis points or even 1%, but this should be constructive for equities if done gradually. Bond investors, however, and those with defensive equity portfolios may wish to consider whether they have sufficient protection from interest rate risk as the cycle turns. Spring is still here, but winter is coming.

Disclosures
The views expressed in this material are the views of Lori Heinel through the period ended May 4, 2018 and are subject to change based on market and other conditions. This document contains certain statements that may be deemed forward-looking statements. Please note that any such statements are not guarantees of any future performance and actual results or developments may differ materially from those projected.
Investing involves risk including the risk of loss of principal.
All information has been obtained from sources believed to be reliable, but its accuracy is not guaranteed.
There is no representation or warranty as to the current accuracy, reliability or completeness of, nor liability for, decisions based on such information and it should not be relied on as such.
The whole or any part of this work may not be reproduced, copied or transmitted or any of its contents disclosed to third parties without SSGA's express written consent.
The information provided does not constitute investment advice and it should not be relied on as such. It does not take into account any investor's particular investment objectives, strategies, tax status or investment horizon. You should consult your tax and financial advisor.
The trademarks and service marks referenced herein are the property of their respective owners. Third party data providers make no warranties or representations of any kind relating to the accuracy, completeness or timeliness of the data and have no liability for damages of any kind relating to the use of such data.
United States: State Street Global Advisors, 1 Iron Street, Boston, MA 02210-1641
Web: www.SSGA.com
State Street Global Advisors Global Entities
© 2018 State Street Corporation - All Rights Reserved
Tracking #: 2110924.1.1.GBL.RTL
Expiration Date: 5/31/2019