China Debt Inclusion in Global Agg Extends Historic Opening of Markets
Published April 04, 2018
Adding Chinese government debt to the global bond benchmark of choice is a historic move, both for investors looking for attractive yields and low correlations to other bond markets as well as Chinese leaders looking to carefully open their markets to foreign investors. While next year's inclusion of Chinese yuan (CNY) denominated government bonds (CGBs) and policy bank financial bonds (PFBs)1 to the Bloomberg Barclays Global Aggregate Index (Global Agg) will be gradual and incremental, it will change the weights and duration profile of the Global Agg. Moreover, it means that investors and their managers will need to monitor much more closely the progress of Chinese reforms to the financial sector and developments in Chinese debt markets overall.
Why This Is Significant
For investors seeking a benchmark that represents all investment grade-rated fixed income securities in developed and emerging markets, the Bloomberg Barclays Global Aggregate Index (Global Agg) is widely recognized as the benchmark of choice. China is the world's third-largest bond market, with a total outstanding value estimated at USD 12 trillion. Until now, the country's debt has been excluded from major global bond indices because of China's restrictions on market access, capital controls and other operational issues. As we have discussed before, China's leaders have pursued a careful balancing act of opening their markets to foreign investors while still maintaining control over their capital accounts. Over the past two years, however, authorities have taken steps to open up China's onshore bond market to offshore investors, including the introduction of China Interbank Bond Market (CIBM) access in 2016 and Bond Connect in 2017 (see Figure 1).
Inclusion in the Global Agg should accelerate China's acceptance into the mainstream of fixed income — especially as long as the country continues to reform the financial sector. As allocations to Chinese bonds become a larger part of global investors' portfolios, we believe it is important to carefully monitor how these new additions affect major bond indices and global debt markets overall.2

China's bonds will be phased in over a 20-month period starting in April 2019, increasing in 5% increments each month after that. By November 2020, it is expected that the Global Agg would include 377 Chinese securities, representing 5.55% of the index. CNY-denominated bonds would then be the fourth-largest currency component of the index after the US dollar, euro and Japanese yen, while the yield to maturity of the index would increase from 1.86% to around 2% and duration would be reduced by about 0.1 year.
Clarifications Ahead of Inclusion
Next year's kick-off could be delayed, according to the Bloomberg announcement, if the People's Bank of China (PBoC) and the Ministry of Finance fail to clarify the following three areas:
Implementation of delivery-versus-payment (DVP) settlement. This is an issue for foreign investors who access the onshore bond market via the Bond Connect route. Chinese government and policy bank bonds are currently settled by delivery-against-payment (DAP) at the China Central Depository & Clearing Co. Ltd (CCDC), rather than via DVP, creating counterparty risk for investors. This is not an issue for foreign investors accessing the onshore CNY bond market via the CIBM route, as CNY government bonds are settled by DVP.
Block trading. This is currently not available in Bond Connect. For foreign investors accessing the onshore CNY bond market via CIBM, this is achievable but only through an operationally complex process.
Taxation policy clarification. For policy bank bonds, which are not tax exempt, clarification is needed on the tax status and collection method at the government, state or institutional level, as well as the specific obligations of investors. For Chinese government bonds, which are tax exempt under the CIBM scheme, clarification is also needed for Bond Connect.
Initial Market Impact Expected to Be Limited
As a result of this change, many global bond investors — especially those with indexed mandates — may be investing in China's bond market for the first time. According to market estimates, USD 2.5 trillion of funds are benchmarked to the Global Agg, so a 5.55% allocation is likely to bring about USD 140 billion of inflows into CNY-denominated government and policy bank bonds. This is insignificant relative to the size of China's onshore bond market.
For the first quarter of 2018, China onshore bonds have been one of the best performers in Asia, and the index announcement could add to the recent positive sentiment. But the phased inclusion starting a year from now suggests that the short-term impact on these bonds may be limited.
In the medium to long term, we expect the impact on flows to be positive. We also anticipate that the other major benchmarks — such as the Citi World Government Bond Index (WGBI) and the JP Morgan Government Bond Index-Emerging Markets (GBI-EM) Global Diversified Index — may also follow suit to include Chinese bonds.
This would further increase offshore investment inflows into the onshore bond market, which currently has a low foreign ownership of roughly 2%, according to market estimates. The relative stability of the CNY currency and low offshore ownership would provide support to China's onshore bond market, which is expected to be fairly insulated from the more volatile emerging market debt outflows.
To fund China's inclusion in the Global Agg, the largest index weight reductions will be from the US, Eurozone, Japan, UK and Canada (see Figure 2). But again, we suspect these shifts would have limited market impact, given the relatively large size and high liquidity of these markets.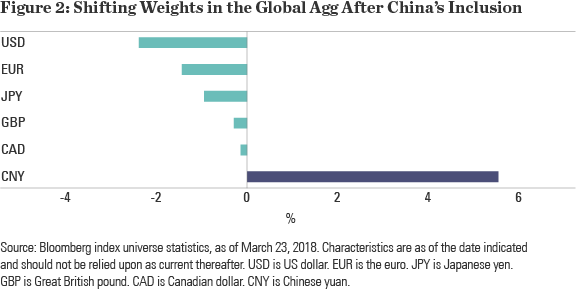 Based on the Bloomberg Barclays Global Aggregate + China Treasury + Policy Bank Index as of March 23, Chinese government bonds account for about 2.61% and policy banks for 2.93% of market weight. These two segments also represent the most liquid parts of the CIBM.3 The remainder of the onshore CNY bond market that is not planned for inclusion comprises local government and municipal bonds, credit and money market securities, asset-backed securities (ABS) and convertibles.
Lingering Concerns
Some investors may be uncomfortable adding China to their portfolios immediately. Taking corporate bonds as an example, there are some common concerns around:
Liquidity and low trading volume with wide bid-ask spreads, especially for illiquid names
Risk of rising defaults rates for Chinese companies amid deleveraging reforms
Transparency and financial disclosure
Lack of international credit ratings while domestic ratings are deemed unreliable
For these investors, Bloomberg will also offer the Global Aggregate ex China Index. And for others seeking alternative exposures to China, there will be customized capped versions of the indices.
How to Prepare Now
Ahead of next year's move, investors might want to consider the following issues:
CIBM direct or Bond Connect via Hong Kong?
Documentation requirements for opening onshore custodial accounts
Setting up bond and foreign exchange (FX) counterparties, hedging and execution
Arranging for bond and FX settlement
Updating investment guidelines, restrictions and fund offering documents where necessary
State Street has been managing and trading onshore China sovereign bonds and quasi-sovereign bonds since 2005,4 with AUM over USD 940 million as of February 28, 2018.5 We have the local knowledge and experience with onshore Chinese assets to assist our clients as they navigate this change. Please contact your relationship manager for more information.
1 Policy banks — Agricultural Development Bank of China (ADBC), China Development Bank (CDB), and Export-Import Bank of China (Chexim) — are non-commercial, 100% state-owned banks that lend in support of government priorities, such as financing economic and trade development.
2 Along with the Global Agg, CNY-denominated bonds will also be eligible for inclusion in the Global Treasury and EM Local Currency Government Indices beginning in April 2019. As these are treasury indices only, policy bank bonds will not be included.
3 See "China's Bond Connect: A Game Changer for Investors" by David Furey and Bruce Zhang, State Street Global Advisors, July 2017.
4 State Street Global Advisors has accessed CIBM since 2005 through special arrangements from the PBoC and the State Administration of Foreign Exchange (SAFE) that allow our ABF Pan Asia Bond Index Fund to engage in CNY bond and FX transactions in that market.
5 Under the ABF Pan Asia Bond Index Fund.
Definitions
Bloomberg Barclays Global Aggregate Index (Global Agg): A benchmark that provides a
broad-based measure of the global investment-grade fixed income markets. The three major components of this index are the US Aggregate, the Pan-European Aggregate, and the Asian-Pacific Aggregate Indices. The index also includes Eurodollar and Euro-Yen corporate bonds, Canadian government, agency and corporate securities, and USD investment-grade 144A securities.
Citi World Government Bond Index (WGBI): An index of bonds issued by governments in the U.S., Europe and Asia.
Duration: A measure of a bond's price volatility, expressed in terms of the weighted average term-to-maturity of all the bond's remaining cash flows.
JP Morgan Government Bond Index-Emerging Markets (GBI-EM): An emerging market debt benchmark that tracks local currency bonds issued by emerging market governments.
Yield to Maturity (YTM): The total return anticipated on a bond if held until maturity.
Disclosures
Marketing Communication
The views expressed in this material are the views of Rupert Cadbury, Esther Koon, Zhen Li, Kheng-Siang Ng, and Bruce Zhang through the period ended April 3, 2018 and are subject to change based on market and other conditions. This document contains certain statements that may be deemed forward-looking statements. Please note that any such statements are not guarantees of any future performance and actual results or developments may differ materially from those projected.
Investing involves risk including the risk of loss of principal.
All information has been obtained from sources believed to be reliable, but its accuracy is not guaranteed.
There is no representation or warranty as to the current accuracy, reliability or completeness of, nor liability for, decisions based on such information and it should not be relied on as such.
The whole or any part of this work may not be reproduced, copied or transmitted or any of its contents disclosed to third parties without SSGA's express written consent.
The information provided does not constitute investment advice and it should not be relied on as such. It does not take into account any investor's particular investment objectives, strategies, tax status or investment horizon. You should consult your tax and financial advisor.
The trademarks and service marks referenced herein are the property of their respective owners. Third party data providers make no warranties or representations of any kind relating to the accuracy, completeness or timeliness of the data and have no liability for damages of any kind relating to the use of such data.
United States: State Street Global Advisors, 1 Iron Street, Boston, MA 02210-1641
Web: www.SSGA.com
State Street Global Advisors Global Entities
© 2018 State Street Corporation - All Rights Reserved
Tracking #: 2076661.1.2.GBL.RTL

Expiration Date: 4/30/2019