When allocating to emerging market debt (EMD), it is worth considering how much to invest in securities quoted in hard currency (HC, US dollar) and how much in local currency (LC). Both have enjoyed strong returns in recent times, but have different characteristics that may affect performance depending on a portfolio's base currency.
While the exact allocation will depend on individual circumstances, investment goals and risk tolerances, we can make some general comments with regard to the differences between the two asset classes. At an overall level, the primary driver of HC returns is EM sovereign credit risk, while the primary driver of LC returns is foreign exchange (noting that there is a combination of foreign exchange volatility and currency risk premia embedded in EMD LC yields). Figure 1 compares the performance of the two sectors using the main JP Morgan indices: JP Morgan EMBI Global Diversified (EMBI) for HC and JP Morgan GBI-EM Global Diversified (GBI-EM) for LC.
Based on this somewhat crude analysis, HC appears to be the better performing sector over the long term, from a return and a risk perspective. However, there have been periods of time where one segment has outperformed the other and vice versa (see Figure 2).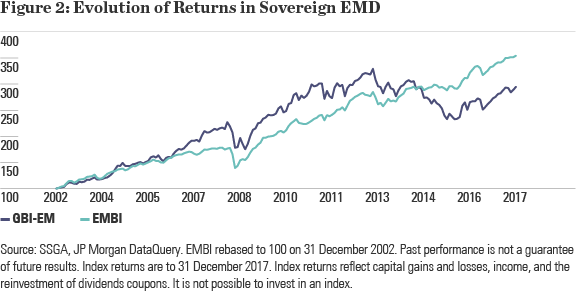 From the above, we can see that LC started to outperform HC from late 2006 onwards and this outperformance persisted, despite the collapse of Lehman Brothers and the intervention of the Global Financial Crisis (GFC) until the Taper Tantrum in the spring of 2013. Since then, HC has outperformed LC quite considerably, even allowing for the strong recovery in LC since early in 2016. These cycles are summarized in Figure 3.
We can see that LC outperformed HC in the first period by 1.41% every year or by 14.6% for the whole period, but since the Taper Tantrum in 2013, HC has outperformed by 7% per annum or 34.8% in aggregate. However, this is based on returns denominated in US dollars. If your base currency happened to be especially strong, for example the Australian dollar, you could have seen a very different performance profile. EMD HC hedged to the Australian dollar consistently outperformed LC, only dipping below LC in the wake of the GFC and then rebounding swiftly to outperform for the rest of the period.
Is There an Optimal Allocation Between LC and HC?
To try to answer this question, we built an efficient frontier using just these two asset classes (Figure 4). This suggests, based on since-inception data, that the optimal portfolio allocation is 70% HC and 30% LC. However, the problem with this type of analysis is that it assumes relationships are constant over time and that history will repeat itself, which has not been the case for EMD.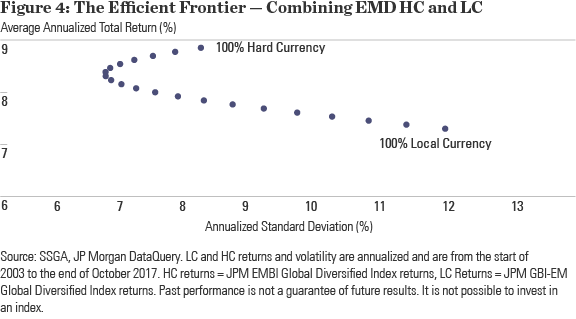 Instead, it is worth considering if there are diversification benefits from holding both HC and LC, given that they have distinct primary drivers. To assess this, investors will need to consider new allocations in relation to their existing holdings in terms of overall debt and currency risk, as well as correlations with other asset classes, e.g., HC has a marginally higher correlation to high yield debt than LC.
Moreover, the balance between holding LC and HC bonds will largely depend on the base currency of your investment. For example, there have typically been greater diversification benefits for euro-denominated investors from allocating to LC, because there is a lower correlation between the euro and EM currencies during risk on/risk off trading periods versus the US dollar. Returns in the HC segment tend to follow changes in the US Treasury curve.
Finally, it is important to consider which EMD type offers value in the current environment. In our view, both HC and LC offer some value relative to developed market debt, but with higher levels of associated risk. LC looks attractive from a yield and currency perspective, with LC currencies in aggregate looking marginally cheap relative to their long term fair values (Figure 5), though we note that currency cycles are frequently multi-year events.
Conclusion
Emerging market debt has been in a sweet spot for the past couple of years thanks to accommodative monetary policy in developed markets, a weak dollar, subdued inflation and the recovery in oil prices and global growth. Many of these factors are still in place and should continue to support the asset class in 2018.
LC and HC debt have both enjoyed discreet periods of out and under-performance relative to each other for different reasons. We would contend that investors can use these different types of EMD to diversify their holdings, though the currency of their portfolio and individual goals will determine how each fits into a broader portfolio. For many base currencies, LC currently appears to offer the most favorable characteristics, always with the proviso that present conditions could reverse.
For more on emerging market debt, please visit https://www.ssga.com/global/en/our-insights/viewpoints/emerging-markets.html
Definitions
JPM EMBI: A group of three bond benchmarks (Emerging Markets Bond Index Plus, the Emerging Markets Bond Index Global and the Emerging Markets Bond Global Diversified Index) that track bonds in emerging markets.
JPM GBI-EM: Emerging market debt benchmarks that track local currency bonds issues by emerging market governments.
Disclosures
The views expressed in this material are the views of Niall O'Leary and Lyubka Dushanova through the period ended 1/30/2018 and are subject to change based on market and other conditions. This document contains certain statements that may be deemed forward-looking statements. Please note that any such statements are not guarantees of any future performance and actual results or developments may differ materially from those projected.
Investing involves risk including the risk of loss of principal.
All information has been obtained from sources believed to be reliable, but its accuracy is not guaranteed.
There is no representation or warranty as to the current accuracy, reliability or completeness of, nor liability for, decisions based on such information and it should not be relied on as such.
The whole or any part of this work may not be reproduced, copied or transmitted or any of its contents disclosed to third parties without SSGA's express written consent.
The information provided does not constitute investment advice and it should not be relied on as such. It does not take into account any investor's particular investment objectives, strategies, tax status or investment horizon. You should consult your tax and financial advisor.
The trademarks and service marks referenced herein are the property of their respective owners. Third party data providers make no warranties or representations of any kind relating to the accuracy, completeness or timeliness of the data and have no liability for damages of any kind relating to the use of such data.
United States: State Street Global Advisors, 1 Iron Street, Boston, MA 02210-1641
Web: www.SSGA.com
State Street Global Advisors Global Entities
© 2018 State Street Corporation - All Rights Reserved
2018287.1.1.GBL.RTL
Expiration Date: 2/28/2019