Why Indexed Investments in Emerging-Markets Equities Are Lagging the Benchmark (and What It Means for Investors)
Since 1988, equity returns in emerging markets (EM) have been reliably robust compared with the equity market as a whole (see Figure 1). Although a few emerging economies are in recession, and others are currently teetering, these consistently strong earnings suggest a continued opportunity for investors.
An analysis by State Street Global Advisors suggests, however, that many investors are encountering challenges as they attempt to take advantage of that opportunity. According to our analysis, index investors in emerging markets have realized negative excess returns on average (gross of fees) over the past ten years, while incurring alarmingly high tracking error in the range of 1% or more.
Why is this the case? Investing in emerging markets encompasses risks beyond pure investment risk, including foreign-exchange risk and liquidity risk. In addition, trading costs are far greater in emerging markets than in developed markets. Investing with a manager that has broad capabilities in trading, liquidity and transaction-cost management can help mitigate these risks.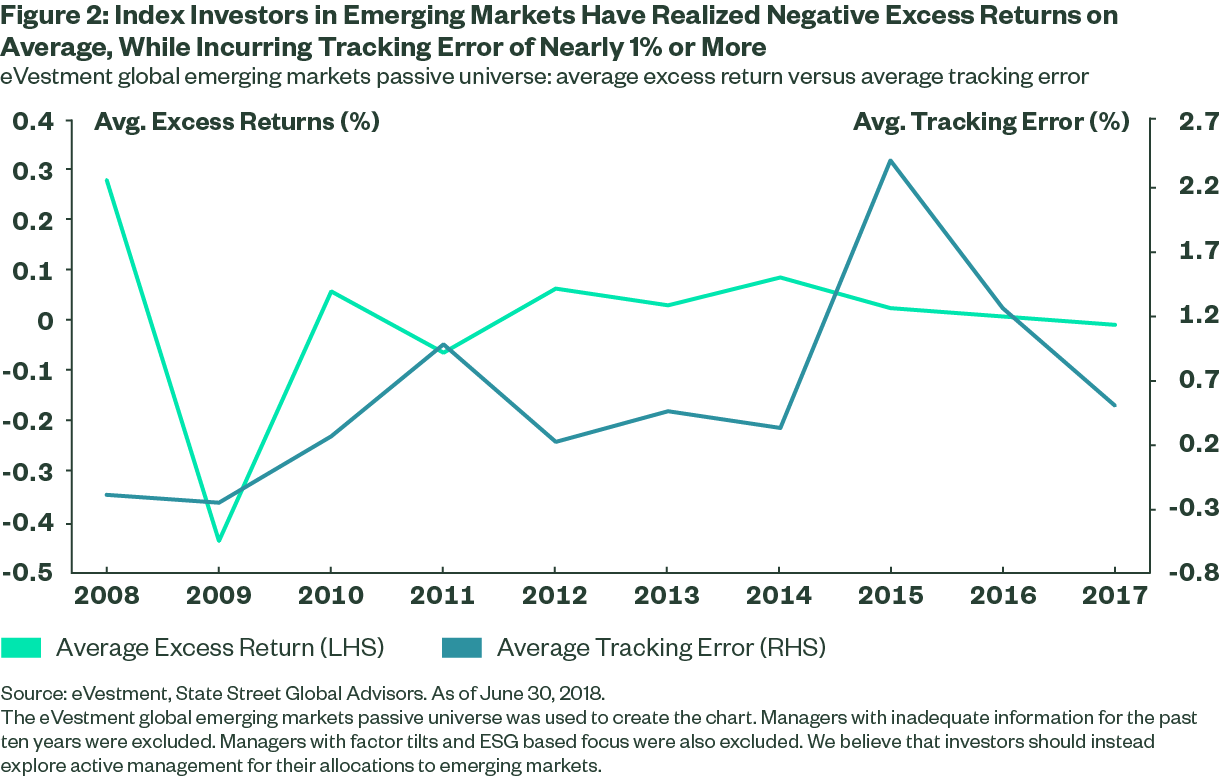 Not all active EM managers are built the same. Because emerging markets are nuanced and constantly changing, we think that experience tends to pay off. Since 2002, the percentage of active managers beating the MSCI EM index has declined steadily, reaching a low point as of December 31, 2018 . In our view, consistent (if modest) alpha generation is more likely to pay off in the long term than a few, relatively isolated episodes of outstanding performance. One way to measure this consistency is to look at a manager's performance on a rolling three-year or five-year basis. If a strategy has beaten its benchmark over 70% of the time since inception, we believe that is demonstration of true skill.